If you think about it, Facebook is the most punk thing ever, because it gives DIY businesses/bands/etc access to exactly the same advertising platform that Coca-Cola, Microsoft, IBM, etc use.
This is a big deal, because Facebook is quite simply the best marketing tool that has ever existed. It can singlehandedly grow your business from two dudes/chicks doing something in their spare time to a fulltime operation where several people are making a good living off of it.
I want you to use Facebook to unlock the potential of your awesome DIY project! But in order to do that, you'll need to learn how to use it.
So I'm going to show you, using real world examples of how I've used FB ads for my own projects to drive traffic and make hundreds of thousands of dollars in sales.
This article won't be short, because Facebook is very powerful and there's a lot to say about it, but if you're serious about growing your business/project, dig in, take some notes, and put these concepts to work– I *promise* this will get you results if you follow it!
This article has 4 parts:
Get your head in the right place: a few words on advertising in general
The quick-and-dirty option that will work just fine for 90% of you and only requires TWO clicks
A breakdown of the 3 parts of any Facebook ad campaign
Some detail on advanced options that will help you maximize your results if you really want to nerd out (which you should)
1. GET YOUR HEAD IN THE RIGHT PLACE
FACEBOOK ISN'T FREE… DEAL WITH IT!
If I had a dollar for every time I heard someone (usually crappy bands) complaining about how Facebook "makes you pay to reach your followers," I could be sitting in a solid gold Ferrari right now driving to my castle on a private island. Deal with it!
Facebook isn't a charity, they're an advertising company… you don't get free ads on TV or in magazines, so why would you get free ads on FB??
What the complainers don't understand is this: once you learn how to run good FB campaigns you'll be happy to pay for them because for every dollar you spend, you'll make more than a dollar back. (you'll learn how in the next section)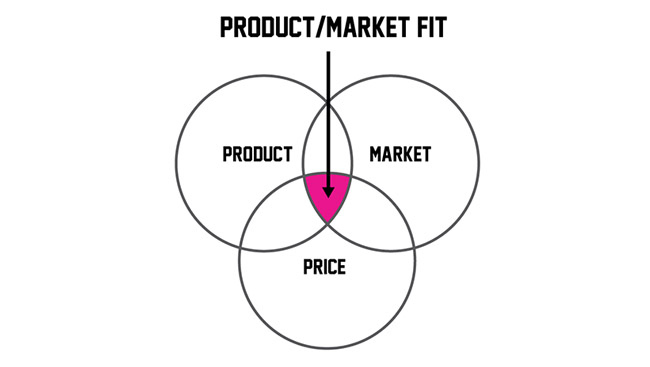 ADS ONLY WORK WHEN YOU HAVE "PRODUCT MARKET FIT"
Put simply, "product market fit" just means that you have a product the market wants, at the price they're willing to pay. (Read a more detailed, technical discussion here)
It seems obvious, but a lot of people kinda skip over this part and think that spending money on ads will make the problem go away (hint: it won't). You really have to be honest with yourself here— if you have an inherently underwhelming product, you're just throwing away your money on advertising. For example, a crappy local band advertising their terrible EP is never, ever going to get good results because they don't have product market fit- their music sucks!
Admitting that you don't have PMF is a tough pill to swallow, but successful people aren't afraid to admit when they need to go back to the drawing board!
Now that you have your head in the right place, here's how you make effective ads:
This is all you need to get "good enough" results from FB ads!
2. THE QUICK-AND-DIRTY OPTION THAT'S ACTUALLY PRETTY AWESOME
If you don't want to nerd out about all this crap, I'll give you a really basic option which I often use because it works really well: just make a post from your page about the thing you want to promote, click "boost" then select the the "people who like my page and their friends" option. This usually gets "good enough" results and you don't have to get into any of the complex targeting stuff.
But if "good enough" isn't good enough for you– if you want to REALLY unlock growth for your company/band/whatever, here's a more detailed breakdown of an effective FB campaign.
FIRST, DEFINE YOUR GOAL– WHY ARE YOU RUNNING ADS?
I'm just going to say it: most people who whine about how Facebook ads "don't work" are lazy. The reason they're getting shitty results from Facebook ads is because they didn't think it through beforehand— they didn't have a goal for their campaign.
If you don't even have a goal, how can you possibly succeed?? That's like running in random directions then complaining about how you're not getting anywhere!
As you can see, Facebook offers lots of options when you create a campaign (even more than you see above). For some reason it seems like the most common one that Facebook rookies choose is "Promote Your Page," which in my personal opinion/experience is the worst option.
In this option, you're essentially paying to get likes for your page. Which does work, but there are some problems.
First of all, a lot of the likes you get are from fake accounts. Second, once you have the likes then you have to spend more money on ads to reach them/sell stuff to them, so what's the point? I'm sure someone out there gets good results from "Promote Your Page", but nobody I know does so I am going to suggest that you don't use it.
For the purposes of this article I'll focus on sales campaigns since they're the easiest to understand and measure. For that, select the "Send people to your website" option and paste in the URL of the landing page for your product.
(Marketing nerds: Yes, I know there is much more to it than this. I'm painting in broad strokes here to keep things simple)

3. THE 3 PARTS OF AN AD CAMPAIGN AND HOW TO MAKE THE MOST OF THEM
Now that you have your goal defined, it's time to tweak the 3 pieces of your campaign for maximum results. Broadly speaking, any FB campaign is made up of an AUDIENCE, the CREATIVE and the BUDGET allocated to it. Here's some detail on each piece:
AUDIENCE: Who you'll be talking to
This is the cornerstone of any campaign–  if you're not talking to the right people, your campaign will fall flat on its face!
It can get very complex, because Facebook offers a lot of super powerful ways of defining and targeting users. Again, the "people who like my page and their friends" option should not be overlooked. It's what I actually use most often, but not always– I also have a lot of success with interest-based targeting, which allows you to target people based on what other Facebook pages they like.
For example, here's a campaign I ran for a product we did with Jason Richardson (formerly) of Chelsea Grin. I targeted younger males in North America and Western Europe who liked Chelsea Grin, Born Of Osiris (the band he was in before Chelsea Grin) and a couple other similar bands- Veil of Maya and Periphery, I think. These days I would be a little more sophisticated (this was a long time ago), but even with this relatively unsophisticated targeting it worked really well.
As you can see, we got awesome results and sold 50+ units for a very handsome profit. This is a PERFECT example of how Facebook ads are an investment– I spent $140 on these ads and made over $1000 from the sales they generated!
There are lots more options, such as targeting people in specific cities, finding people that resemble your existing email list, and many many more. If you want to learn more about targeting (which I highly recommend), Facebook has some great tutorials on it and Digital Marketer has some really in-depth tutorials.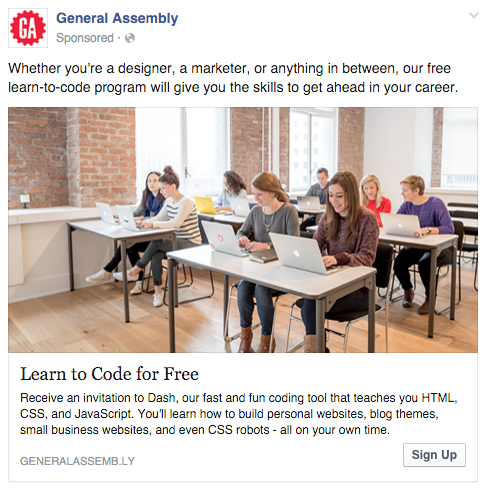 This is solid creative imo: It communicates the value proposition super clearly (level up your career by learning to code) and they support it with a nice photo that shows you their classes aren't just full of guys in hoodies
CREATIVE: What you'll be showing to your audience
This term gives me mild douchechills, but "the creative" refers to any of the text and video/images in your ad. As you would guess, this matters a LOT and there's no real formula for how to do it right. You'll just need to experiment with a few things and see what works for you and your audience.
I keep a folder of screenshots of ads that I like and take a look through it every time I need some ideas. I suggest looking at ads from outside your industry, because that's where the fresh ideas will come from— so if you run a death metal label, don't be too proud to borrow ideas from Swiffer, Xbox or Lexus ads!
Push yourself to come up with really catchy headlines and images- I've doubled the results of my ads just by changing the headline! One super effective thing to consider is a time-limited sale ("Only one more week to save 25%!")– people really respond to the urgency created by a deadline.
I spent $20 on this test, and obviously I fucked up somewhere because I only got 10 page likes out of it– but that's ok, failure is part of the learning process!
BUDGET: How much you'll spend
How much should you spend on ads? That depends on a lot of things I don't know about such as your personal finances, so I can't really answer that question for you.
But I will say this: The number 1 problem I see with people trying to grow their business/project is that they don't invest in it. Don't be cheap!! If you don't feed your business, how can you expect it to grow?
If you spend as little as $5 a day on FB ads you can get results, and I guarantee you that you spend $5 on dumb shit all the time.
Why not put that $5 toward growing your business/band/etc instead of buying another t-shirt or whatever??
3.6% CTR is very solid— but I only found this super successful ad concept by testing a bunch of other stuff that didn't work!
TEST, REFINE, REPEAT!
It will probably take you a while to figure out what works, so be patient. It's not easy to make great ads, and there are tons of factors that could go into the success or failure– the headline, the image, the targeting… all that stuff can make a huge difference.
Don't be one of those lazy dummies who spends $2 boosting a post asking people to buy their band's crappy EP on Bandcamp, then when they don't become rockstars overnight they throw up their hands and say "we TRIED Facebook and it didn't work– what a ripoff!!"
As a rule of thumb for those on a budget, try spending $5 on each test. You'll know right away whether the ad has potential or not. For example, it was immediately obvious to me that my earlier test was not gonna work when I saw that it was costing me several dollars per page like.
4. A FEW ADVANCED TOPICS
You can read about these in more detail on sites like Digital Marketer— and if there is interest, I can also go into more detail on these in future articles. Or you can totally skip over these if you want- you don't have to know any of this to use Facebook ads, but they will definitely help you get better results from your ad campaigns. And if you are serious about promoting your shit, don't be too lazy to invest some of your time in learning how to do it the right way!
You can download the above worksheet here if you don't want to make your own (emojis not included)
Coming up with traffic/sales projections
You don't have to fly blind when you're buying ads– it's actually super easy to come up with a rough estimate of what you'll get out of an ad campaign. A quick tutorial:
Impressions: how many times your ad is shown. The more you spend, the more impressions you get.
CTR: Click through rate; how many people click on your ad
Conversion rate: of the people who come to the page, what percentage of them make a purchase?
Generally speaking, CTR and conversion will be around 1-5%, although you may be able to get better results when you're first starting out
Formula for revenue is impressions * CTR * conversion rate * price— as you can see, you usually have to show your ads to a LOT of people to generate a decent amount of sales
You'll also notice that the more profit margin is in your product, the more you can afford to spend on ads– this is a good reason not to price your products too cheaply!
Don't worry about getting forecasts exactly right, because you never will. Just use them to get a rough idea of whether your goal is realistic. For example, if your campaign only makes money with a click through rate (CTR) of like 7%, you need to go back to the drawing board because that's a crazy high CTR which you'll never be able to achieve at scale.
Set up a tracking pixel
Make sure you create a Facebook tracking pixel and learn how to use it. Basically, this allows Facebook to track what you do. That's how they serve you a zillion ads for women's clothes after your buy your girlfriend some shoes online (this is called retargeting). It's also how they track the results of ad campaigns- for example, whether you make a purchase after clicking on a Facebook ad. It's pretty easy to set up, and it's the key to tracking your ad campaigns so you should definitely do it.
IN SUMMARY
Facebook is an amazing tool to drive traffic and sales
But it's not free, so look at it as an investment in yourself/your business
Advertising only works if you have product market fit
For quick and easy results, just choose "boost post" then "people who like my page and their friends" for the audience
Test, test, test– it may take a while to get it right
Set up a tracking pixel to more accurately measure your results