Colt Cabana (nee Scott Goldman) is easily one of the most recognizable independent wrestlers at the moment. He's the creator and host behind The Art of Wrestling, often considered the first wrestling podcast. While Cabana is known to some as "breaking the internet," he should be known more for his DIY business acumen, which has extended to a fruitful life as an independent wrestler, comic, and world traveler. Cabana is a multi-title holder, guested on both Marc Maron's WTF podcast and his eponymous TV show, but more importantly, he's provided the template on how to be a completely self-sufficient DIY pro who hosts a podcast from his studio…APARTMENT.
Give us your life story in a few sentences: who are you, what is/was your involvement in DIY culture and what is your "real job"? 
Chubby Jewish sports-minded kid from the suburbs of Chicago dreams of being a pro wrestler.  So he does.  That kind of sounds like a headline, but my life's basically a news headline at this point.  In terms of DIY…. "Underground wrestlers builds up enough cred to be signed by WWE, treated like a joke, fired within two years, then goes back to his roots and finds more success than he ever dreamed of."
What have you learned from your time in DIY culture that has helped you in a professional capacity?
I'm not sure I've ever really been in a professional capacity.  I've seen people around different places in suits, but because of what I've created and the confidence I've built up for myself as a person and performer, I don't really need to please anyone.  I try and be myself at all times.  If someone wants to work with me, great!  If they don't, that's ok too!
On the flip side of that coin, are there any bad habits or bad ideas that you picked up that have held you back professionally? 
Probably the giant chip on my shoulder.  My path has really been paved because I felt nobody in a higher position wanted to "pick me up" or believe in me.  So I started my own thing and believed in myself.  Whenever I deal or see higher-ups, I usually have my guard up and I have to tell myself that not all of these guys hate me.
You have been able to parlay your skills as a professional wrestler to a full-on brand. You're largely credited as having the first wrestling podcast, Art of Wrestling; your physical knowledge was tested on Mystery Show; and you've spun off and now have the anecdotal Pro Wrestling Fringe on Howl. Do you feel surprised about the left turns in your professional journey? 
There's a lot of fans who remember the weird "talk show" I did on the original ROH (Ring of Honor) VHS tapes.  It was called 'Good Times Great Memories'.  That was 2002.  I've always been thinking bigger than just the wrestling in the ring and how to find more outlets for my wrestling.  So to me, podcasting really doesn't seem like a left turn.  All the notoriety I receive is because of wrestling in some shape or form.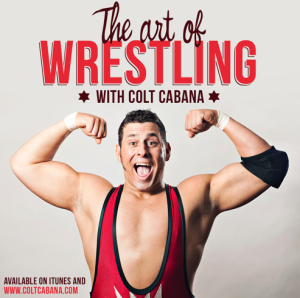 Your run with WWE and transition to the indies have often come up on your podcast and you've been an advocate for promotions who've been able to operate outside the confines of the "sports entertainment" label. Without the stakeholders that WWE has, what kind of freedoms are the indies allowed to have? 
In the WWE, Vince McMahon is the boss.  He can fire people with a snap of his finger.  As a talent, there's like 10 people within that corporate ladder from a wrestler to Vince.  So many people that are worried if you do something out of the box it will cost them their job.  On the indies, it's the complete opposite.  You just do what you want and if you don't want to second guess yourself you don't have to.  You can fail and not be afraid to fail.  It's what makes people great.
You've also championed the wrestling aspect of the Gathering of the Juggalos, and in many ways, ICP themselves are an embodiment of the successful independent spirit. Have you ever received any advice from Violent J that's affected your POV on being a one-man brand? 
Shaggy and Violent J are two people I look up to and have the highest respect for. Their "business" model is everything I've ever wanted for myself.  I'm lucky to call them both friends and I talk with them a lot about the different ways they do stuff and different things they've found that have worked and haven't worked.  I champion ICP as much as I can.
One of the most known projects you've released is the Wrestling Road Diaries series. Is this something that you'd want to do strictly as a director and not necessarily as a performer? 
I've talked about branching it out and putting a spotlight on others.  For now, we're just going to follow my adventures, but it's definitely something I've thought about it.  The new one should be coming out at the end of March, so I'm excited about that!