You may know Chris Wrenn as the founder of Bridge Nine, one of the most important hardcore labels of the past 20 years (and home of the infamous B9 board). But as much as I love him for putting out bands like Have Heart, Terror, Death Threat and Ramallah, the fact of the matter is that nobody (including Chris) is making a ton of cash from releasing hardcore records.
What you might not know is that Chris' "real job" isn't Bridge 9, it's his apparel company Sully's. Rooted in the rich and highly charged culture of Boston sports, Sully's was among the first of the new-school sports brands (along with Homage) that have essentially reinvented sports apparel, injecting a little punk rock attitude into what was previously a fairly conservative category. Take a walk down the aisles of Dicks, Walmart, or Target and their influence on mainstream retailers is obvious.
I'm really stoked to document Sully's here because it's made as big of an impact on its niche of the apparel business as B9 has on its corner of hardcore, and I'm super proud of what Chris has built by applying the DIY hardcore approach to a totally different business.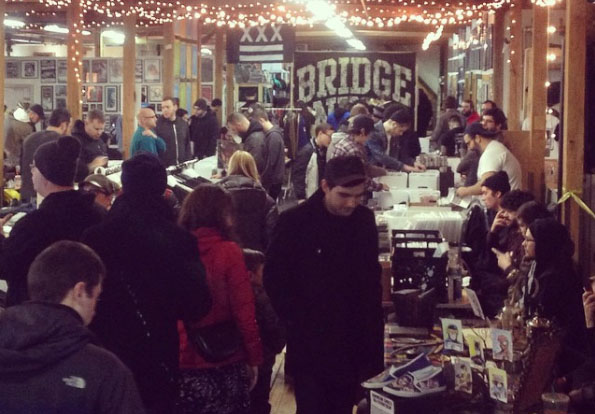 Never a dull moment at the B9 office/warehouse
Give us your life story in a few sentences: who are you, what is/was your involvement in punk/HC/DIY culture and what is your "real job"?
My name is Chris Wrenn, and I run a few different small businesses. The oldest being Bridge Nine, an independent record label that I started 21 years ago when I was 19, and Sully's, the one that pays my bills – an apparel brand now in its 17th year that helps Boston fans rep their city and favorite teams.
I had grown up skateboarding and listening to heavy metal, punk rock & hardcore, and most of the people that I knew from shows had gotten involved on some level, beyond just showing up, singing along and stage diving. After moving out of my hometown for college, I decided to help my friends release three songs with their new singer. This became Bridge Nine's first release, a split 7″ with Tenfold, which was kids from my high school, and Sum of All Fears, friends of theirs.
My first real job? I don't know if I've ever really had one. My first job out of college was in the art department of the Tower Records on Newbury Street in Boston. It didn't pay like a real job, but it allowed me to be creative and gave me the flexibility that I needed while my label was just getting started. I stayed there for a couple of years, and then left when I was offered a marketing position at another indie label in Boston at the time, Big Wheel Recreation. I did that for about a year, and then went off onto my own, and have been doing so now for the past 15 years.
Sometimes the lines between Sully's and hardcore get a little blurry (buy it here)
What did you learn from your time in DIY culture that has helped you in a professional capacity?
The most important lesson is that you CAN do it yourself, and that you shouldn't wait for someone else to do it. That's the biggest hurdle, realizing that you can just go out and do something. It's not as hard as it looks.
On the flip side of that coin, are there any bad habits or bad ideas that you picked up that have held you back professionally?
Thinking I can do everything myself, not delegating responsibilities when I should… I've always struggled with organization. Keeping my email folders in order. Making sure I could see my desk and avoiding the clutter.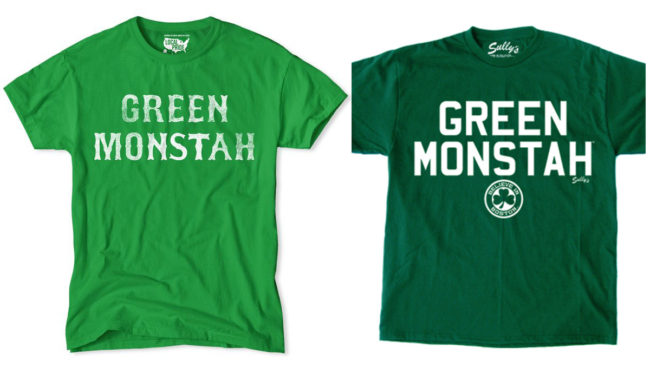 That time when Target (left) drew a little bit too much inspiration from Sully's (right)…
You got a lot of press pretty early on, which is awesome— but it also meant that the big dogs saw what you were doing and copied it. As you put it, "Sully's is the craft beer that is changing how the Bud's are doing business." This happened to my friends at Homage, too. How did you feel when you first started seeing that, and how did you deal with it as a business owner?
It's inevitable, everything that does well gets copied like crazy. Whether it's a particular clothing style, or a kind of TV show, or a bands sound, when something starts becoming popular, there are a ton of people looking to cash in or ride the wave. It can be frustrating, but it also reinforces that you're doing something right.
We dealt with it last summer when Target picked Boston to debut their "Local Pride" line of t-shirts by NYC designer Todd Snyder. They came up with twenty or so t-shirt designs that were supposed to speak to and for Boston residents. At least half a dozen looked like they could have been Sully's t-shirts, and one was a straight rip of our best selling tee. The Wall Street journal documented the designers trip to Boston to be "inspired" before creating the line, and it said he spent time in a tourist trap that at the time had three different vendors selling our tee that he copied, so that was pretty easy to trace back.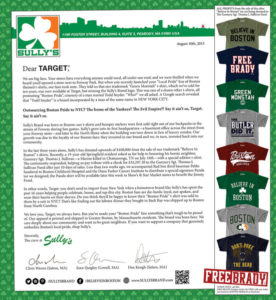 We handled it the only way that I knew how to afford since we weren't going to tie up money with lawyers. I took out a full page ad in the 2nd largest newspaper in Boston, and wrote an open letter to Target, telling them that it bothered us that they'd hire a NYC designer to get inspired by a real Boston brand, and then sell these watered down knockoffs back to Boston fans. Considering the NYC/Boston sports rivalry, it just didn't feel right. What's local about hiring an out of state designer? We recouped the cost of the ad pretty quickly because pretty much every Boston news outlet picked up the "Sully's VS Target" story and ran with it, giving us some great publicity.
A lot of people see the t-shirt/apparel business as an easy way to make a lot of money fast. Those of us who have worked in the industry know that it's actually a tough business. What would you say to anyone who wants to start an apparel brand as far as the realities of the business?
The thing with t-shirts is that the barrier of entry is so very low. Anyone can get a t-shirt design up and out there for under a hundred bucks. Make a couple dozen, sell them, reinvest in more tees. That's pretty much what we did early on. Despite it being cheap and easy to get started, the hard part is growing and keeping it going. Since pretty much anyone can do it, there's a lot of competition out there. But most of it isn't very good. You need to focus on the details, making it better, and realize that you're not going to bat a thousand. That's evident by the 1,200 or so t-shirts that I drop off at the Salvation Army every last week of December like clockwork.
Sully's has a lot of staples that it sticks to, stuff that stays relevant for years, but we also do current event commentary type of tees, that can be super hot one minute, and drop off the next. You have to take risks, and see how it shakes out. And you need to reinvest and make your brand better. When we started, it was mostly one color ink on a white or solid color tee. Now, we're doing 2-5 colors on a lot of tees, we do tagless inside of the neck label printing, we have hologram stickers, hang tags… We've switched over to high ring spun cotton and poly blended tees, because we want our t-shirts to go into the customers regular rotation, not just worn when they head to a ballgame.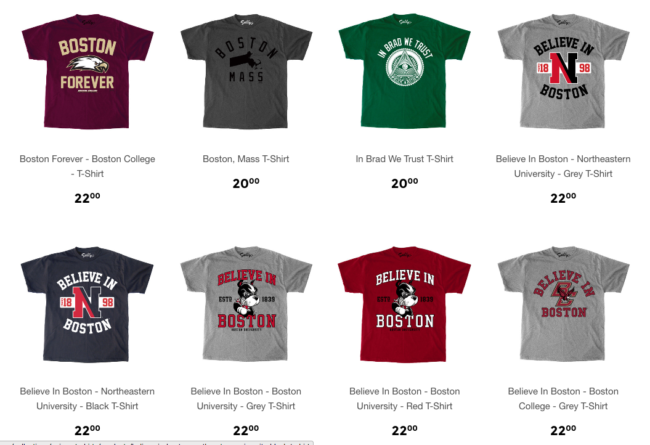 By my count, Sully's has almost 240 SKUs of unisex t-shirts alone. As you can imagine, keeping track of that much inventory gets tricky.
This is probably the least punk question ever, but I'm curious about your operations. You have a pretty large amount of SKUs, which gets complicated fast in terms of supply chain/demand forecasting, inventory tracking, fulfillment, etc. How did you learn to manage all that, and what's been the biggest learning for you on that side of things?
This is definitely a huge headache. Not only do we have a lot of different products, but we have a lot of similar ones… We have upwards of 3 to 4 t-shirts that could be described as "the black and gold 'Believe In Boston' tee." We made an effort to come up with a good catalog numbering system early on, and we just try to keep everything organized and well labeled. We don't have any fancy in regards to a digital inventory system (outside of web sales) but we are vigilant about keeping tabs on items that can take a while to get back in stock, like the flags & pins that we order from overseas.
Demand forecasting is really tough for us. We'll stock up when teams go into the post season, or around big holidays, but things can change pretty quickly. We had "if they win" designs ready to go when the Pats were in the Superbowl in 2015, and had allocated everything for a set number of tees. Then, Malcolm Butler made that crazy play to win the game, so we created a new shirt on the fly to acknowledge that, and it became one of our overnight best sellers. We had to hustle to accommodate everything but we were able to, thankfully.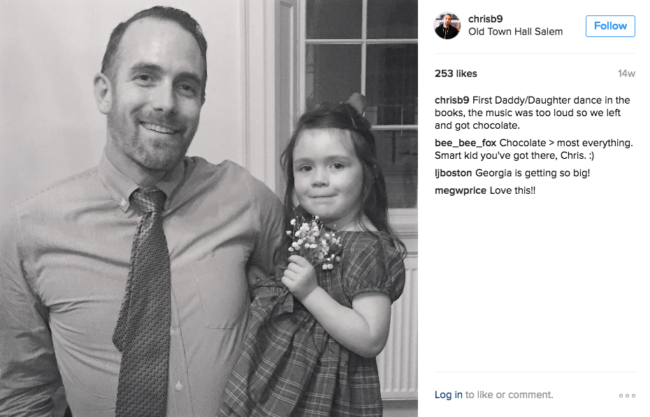 Last but not least, you are a father on top of running Sully's and B9. How do you find a balance between work and family? I could see that being tough at times.
This is a constant balancing act. I used to go to the office by 7-8am every day, and when my daughter was born, had to mix up my schedule. Thankfully I am able to be pretty flexible, but it just meant working weekends again, and staying with her till 11am or so every morning, and then going back to the office from 9pm till after midnight, to keep getting whatever needed to be dealt with that day done. It's worth it though, because despite having helped make a lot of things over the years, she's my absolute favorite.
Follow Sully's on Facebook and Instagram // Follow Chris on Instagram
Header photo by Benjamin Gibson Photography