Growing up, the only thing that I cared about as much as hardcore was graffiti. I'm not going to say that I was the king all-city bomber, because the truth is that I was too scared to ever really get up a ton, but I spent thousands of hours tracking down copies of Can Control, drawing outlines, and trading flicks with other kids from all over the country. I've always thought of hip-hop and graffiti as fundamentally the same thing as punk/hardcore: independent culture by the kids, for the kids, so I am stoked to have Chris Gliebe on PRMBA to represent graffiti on here.
I know Chris from some Scribble Jam many years ago, and then from freelancing at motion graphics/broadcast design agency Lightborne, where he is now the Executive Creative Director. He's not only an awesome writer, but a great designer/illustrator and most importantly one of the nicest human beings you will ever meet. Also, big shoutout to Scott D and the rest of the crew at Lightborne, who were awesome to work with and I am super proud of.
When he's not painting his name on a wall, Chris works on stuff like this: the projected and LED animation content for Katy Perry's Super Bowl XLIX Halftime show. No big deal…
Give us your life story in a few sentences: who are you, what is/was your involvement in DIY culture and what is your "real job"?
I am Chris Gliebe, aka "Devi" (pronounced Dee-Vee) aka "The Devious." I'm a graphic designer, illustrator, recovering hip-hop DJ, and traditional graffiti writer. (also a husband and father of 3.) In the mid 90s and early 2000s, i was involved with Scribble Magazine and promoting Scribble Jam. (if you don't know what that is… well, look it up.) And was pretty heavy into the midwest graffiti scene. I started a short lived record label with my friend Mr. Dibbs "Stereo-Type Records." I created a lot of graphics for other indy hip hop labels such as Rhymesayers & Mush Records.
Vinyl toy design for Kid Robot
I designed the iconic Rhymesayers "Battle Kings" logo — and have done a lot of design and music video work over the years for Atmosphere, Mr Dibbs, Blueprint, Brother Ali, Evidence & Alchemist, The Animal Crackers, Boom Bip, MTV, Puma, Bad Religion and other "cool kid" entities you may be familiar with. I've done a lot of t-shirt work for To Die For Clothing, and vinyl toys for Kid Robot, & Toy Cube. Occasionally I've been known to do gallery art shows, or paint large scale murals, but being a responsible father takes up most of my free time as of late.
My real job: is Executive Creative Director for a Cincinnati based motion design company called Lightborne. Ive been working here for 13 years, and helped build the company into what it is today. I don't own it but I'm a big part of it, and what it has become in the last 8-10 years. We specialize in Motion graphics for broadcast Television commercials, but we also create live performance video graphics (on stage) for pretty "major" music acts, tours and television performances. (Katy Perry, Kanye West, FUN, Taylor Swift, Billy Joel, Deadmua5, Kenny Chesney, Usher, Die Toten Hosen, — our client list is pretty varied and extensive.) Lately we've been getting into environmental projection mapping, Broadcast TV show development, and retail video "experiences. "— basically if it needs to look cool, and be on a big ass video screen, we're into it.
TSC production at Scribble Jam with DEVI, WHEN, RAPES and SEWON
What did you learn from your time in hip-hop/graffiti that has helped you in a professional capacity?
Having a strong connection to what "REAL" hip-hop or graffiti culture is or favors, has always helped my work stand apart from others. Good companies want authentic shit, when marketing to the kids, not "the white bread version" of whatever it is your trying to create. I got my job, not based on the tons of professional corporate design work I had under my belt, but because of all the record cover art, and graff pieces I would always include in my portfolio. It made me stand out. What has graffiti taught me was to always try to remain innovative, and try to be onto "the next shit" before the masses catch on. And when they do… you will have already moved on to whatever is next. Basically always think 2 steps ahead in terms of whatever you are dealing with, whether you're talking visual trends or dealing with tough clients.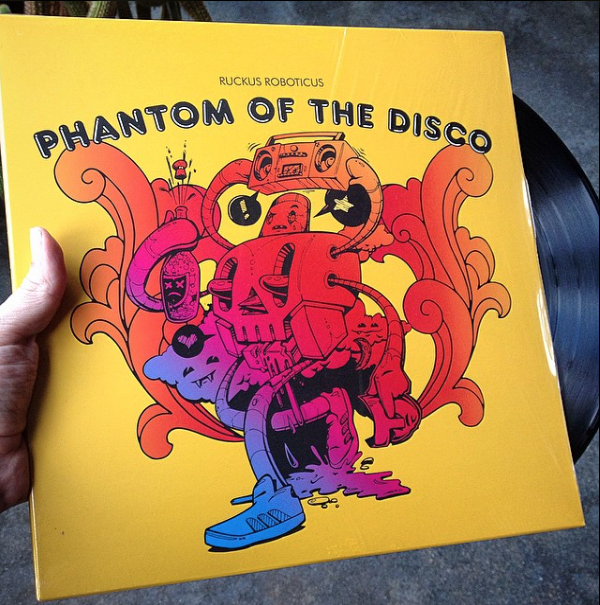 Cover art for Ruckus Roboticus
On the flip side of that coin, are there any bad habits or bad ideas that you picked up that have held you back professionally? Graffiti writers can be less-than-professional to say the least, but you always seemed to avoid that side of things. How did you steer clear of that?
Well, Sometimes I've had projects where the client wants something to "look like graffiti" or "Street art" — and so I try to give them what I would do, as a writer or do what is currently "hot in the streets" … but that doesn't always line up with what the client has in their head.. they want like the stereotypical version of that… and that's when my ego has gotten in the way. I try to bend to suit their tastes, but I have a hard time doing some sellout type shit, and so I've definitely pushed some people's buttons in the past. As a professional DESIGNER (not artist) sometimes you gotta just say "f_ck it… this is just work, it's not personal." and leave it be. In the end it doesn't' reflect on me, so I shouldn't let it get me angry.
Some more eye candy from Lightborne
What advice do you have for anyone in "the scene" who wants to end up in your line of work?
Well, if you want to go into design or more specifically motion graphics, all I can say is learn the latest software and get good at it. Watch a lot of other peoples stuff online, not to copy – but so you know what is already out there, been done, played out, or just plain awesome. — Then build on that knowledge to create your own style. I also can't recommend enough that you actually take design classes (not just learning software classes.) I also highly recommend doing internships or paid co-ops, while you're still in school. The best place to learn how things really work, is on the job.
Lastly, work hard, stay humble, and always try to exceed expectations.
Follow Chris on Instagram and Tumblr
Check out Lightborne and tell them PRMBA sent you!