Getting people to show up to stuff is HARD!! And nothing is more of a bummer than putting in a ton of effort into planning an event, working yourself halfway to death getting everything set up, only to have 14 people turn out (12 of which are your friends and their roommates who were all on the guest list). I've been there, and I'd love to help you avoid that pain if I can 🙂
Now, I'm not a promoter and don't want to be one, but I have run some ads promoting tours for Periphery, A Day To Remember, Intervals, and Self Help Fest among others, and wanted to share what's worked for me with them. To keep this from being a million words long I'm leaving out some details, but this is the basic approach.
And although I titled this article "How to advertise a tour," this applies to any kind of event – the only difference would be adjusting the targeting.
We can't all make a video this great, but this should be your goal
First, have great creative
When it comes to advertising anything, the best investment you can make is awesome creative– and just to be super clear, "the creative" means the images, video or text in the ad (it's a douchey industry term but yeah). I suggest a :15-:59 video that has a strong opening. You've gotta grab their attention in the first few seconds, so make sure that the beginning of the video is great.
Your targeting should look something like this for each city
Phase 1: Awareness
We've all had this happen a million times: a band we love comes through town, but we didn't hear about it until the day after the show when everybody is posting pictures from the show and you go "Dude! I totally would have gone if I knew about the show." You don't want this to happen to you, so your first job is just to let people know that the tour is happening.
I run a separate ad for each date on the tour, targeting people in a 50 mile radius who like any of the bands on the tour and/or similar bands. You want to get the "potential reach" into at least a few thousand people (depending on the size of the venue).
Your campaign should use the "website clicks" objective, and drive them to the page where they can pre-order tickets for the show.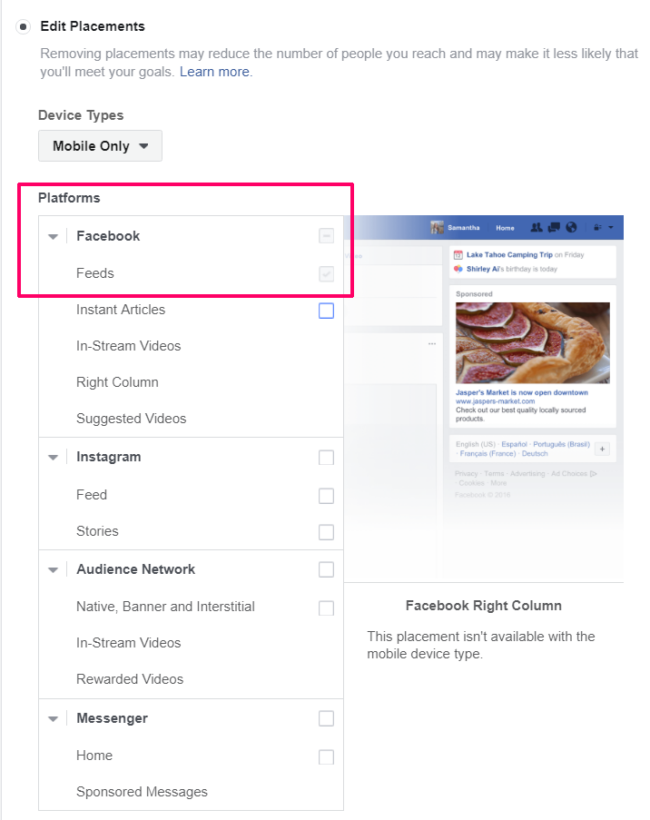 I suggest running them only on the Facebook mobile newsfeed because this is almost always where you'll get the cheapest clicks. I have tested this on hundreds of campaigns and this is true more than 90% of the time. Choose the "edit placements" option, then "mobile only" in device types, and uncheck everything except "Feeds."
When you announce the tour, run them for 5-10 days per city, depending on your budget. Yes, this can get pretty expensive if it's a 20 date tour ($5 per day x 20 dates = $100 per day), but IMO it's money well spent. Why spend thousands on gear, a van, etc then cheap out on getting people to come to the show?? If you sell even a few more pieces of merch at every show then the ads have paid for themselves.
But here's the thing: your goal here is AWARENESS more than ticket pre-sales. This is because most people don't pre-order for shows unless it's Rihanna or something. So you will get some pre-sales, but don't worry if they are slow.
For example, if the show is on March 2, run your second round of ads starting on Feb 24 or so
Phase 2: Get them to show up
You got their interest with your first round of ads, now your job is to get them in the door! And this is where you'll drive the majority of your actual ticket sales– from walk-up sales at the venue (not online pre-sales).
Run the same ad as before, but start it 5-7 days before the show, running up until maybe 5pm on the day of the show.
That's it!
Notes
It usually isn't possible to directly track how many ticket sales you get from your ad campaigns. This is because the music industry runs on stone-age technology and you will typically be sending traffic to ticket sales pages owned by several different companies and you won't be able to add your Facebook pixel to each one. This is really annoying, but without jumping through some really big technical hoops, it's the way things are so you'll just have to use your judgement to guess whether the ads were effective or not.
Yes, you can run them on Instagram. In my experience your cost per click will almost always be higher than Facebook mobile newsfeed, but if you have the budget test out both and go with what works best.
Facebook and the other technology mentioned in this article change all the time, so it's possible that when you read this, there's a better way to do this. So experiment with the options, and if you find a better way then let me know! 🙂
---
If you found this article helpful and want to take your marketing to the next level, check out Sell It Without Selling Out: DIY Marketing For Creators. It's an online course from me (Finn McKenty) and Matt Halpern (drummer of Periphery) that gives you a complete, step-by-step guide to turning your creative passion into your career – to getting paid doing what you love. It's 3+ hours of video lessons, a 50-page workbook, and includes lifetime access to our private coaching group!