"Behind every successful operation is a hardcore kid" – Mike Mowery
We are a bunch of punk/hardcore/metal/emo lifers who spent our teens and 20s traveling around the country going to basement punk shows, making zines, playing in DIY bands, getting kicked out of skate spots, and painting graffiti in train yards. It was definitely fun, but I used to wonder if I'd made a huge mistake, if I'd just wasted all those years instead of going straight into a 4 year school like everyone else.
When the normal kids were at prom, we were doing this
(photo: Jav VanHuss)
But when I grew up and entered "the real world," I realized that those weren't wasted years at all– in fact, the time I spent in the trenches of the DIY hardcore scene was where I learned the mindset, values and skills that are at the foundation of my professional career. When I was making zines in my parents' basement, I was actually running my own publishing business. When I booked shows for my friends' bands because nobody else would, I was running an events business, and so on. To some it might have seemed like a waste of time, but looking back I feel like it was the best business education I could have gotten (although I did go on to get a degree in management and marketing, which was a perfect compliment).
While we have tremendous respect for mainstream business, we also think that "the suits" can learn a lot from the world of DIY punk, hardcore, skateboarding, graffiti and independent culture.
This blog is our attempt to document those lessons and tell the stories of people like us: the people who ended up being pretty damn good at their jobs not in spite of being the weird punk/hardcore/skater kids, but BECAUSE of being the weird punk/hardcore/skater kids.
FINN MCKENTY aka "the hardcore guy"
I do influencer marketing for CreativeLive. I used to do marketing for Abercrombie & Fitch, was Creative Director of Flo Multizine and did product development for clients including Procter & Gamble, Whirlpool and Motorola. I've written for a bunch of media outlets like MetalSucks, Substream, Decibel, Terrorizer, and more.
Bands I like: Terror, Death Threat, Strife, Youth Of Today, Dag Nasty
FinnMckenty.com // Facebook // Instagram // LinkedIn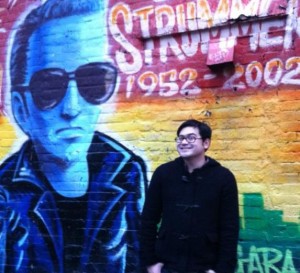 RYAN PANGILINAN aka "the emo guy"
I'm a freelance social marketing strategist working primarily with small-to-midsize businesses and non-profits. I've had a long history on social, beta testing MySpace back in 03-04, as well as other sites that never quite made it. I release content under my banner, Faster Than The World, which has a corresponding podcast and blog regarding social marketing and its relation to businesses at large. I'm the emo guy because I used to really love Drive Thru and Barsuk Records. 
Bands I like: Jimmy Eat World, American Nightmare, Glassjaw, Brand New, Lifetime
FTTWsocial.com // Facebook // Instagram // LinkedIn
HUNTER BRAWER aka "the punk guy"
I am a corporate recruiter, MBA student, and provide independent career advisement services. I also cohost an advice podcast called Turn It Around, and have contributed to a number of music blogs. Before this, I was a wayward punk kid who spent countless hours falling down at Orange County skateparks and wiping other people's sweat off of me at various basement shows.
Bands I like: Ramones, TSOL, Last Rites, Flipper, Black Flag
Turn It Around Podcast // Facebook // LinkedIn